tom moody
---
View current page
3 matchs for silicious:
---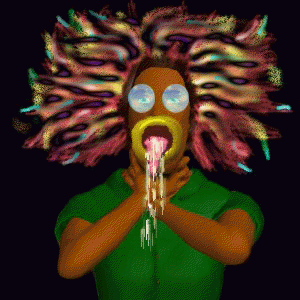 An interview with musician and animator
Silicious
, by Petra Cortright, commissioned by Rhizome.org, is on the Rhizome
front page
*. Earlier posts on Silicious are
here
.
I love the music of Silicious' video
Georg
: like slowed down Giorgio Moroder with call and response vocals, ringing telephones, etc.
Update: Just noticed that Rhizome tabbed the interview "ironic." That is way off base--this is very sincere and emotional work, and I believe Petra and others are sincerely interested in it. "Visionary," "playful," expressionistic," non-status quo," "angsty," "political," "disturbing" are the words I would use. Or "freakedelic," to use Daniel's term.
Update, 2011:
The Rhizome link has been changed to
http://rhizome.org/editorial/2007/jul/14/interview-with-silicious/
---
"I can tell you when the wind blows my way/And I know you just got laid." Digital/outsider_art/Sun Ra_Garageband/YouTube_visionary Kathleen Daniel aka Silicious has a new animated song on
YouTube
her site
. Check it out. I love her voice and the jangly Beefhearty guitar loops and the sheer nuttiness of those animations although the subject matter (exasperation over a horndog boyfriend) is timeless. Not work safe (scrotum puppet).
---
Interesting sounds/patterns/glitches by Mary Benedicto:
Loops
,
Flowers
,
The Swarm
, others... The music is in the Pole/Boards of Canada spectrum (albeit fragmentary) and the visuals are consistently psychedelic/oceanic but also cut up electronically so that you are not allowed to completely "sink into" them.
Also, thanks to Nasty Nets East for introducing me to
Silicious
(Kathleen Daniel), who rules YouTube with pleasantly deranged music and video of her own creation. The tunes are especially accomplished, melding classic R&B crooning, ESG-style electro-funk, Sun Ra tonal adventurousness, and garageband. (Check out
Georg
--that Giorgio Moroder bassline with the "la di da di/we like to party" chorus is to die for). I prefer the videos with free-floating Bryce or Poser characters to the obvious Photoshop filters, but it's all pretty great--Henry Darger-esque but with a heart and a conscience and healthy as opposed to brutal sexuality (and in 3D and 4D as opposed to 2D and 4D).