tom moody
---
View current page
...more recent posts
---
---
Saturday I went to look at a couple of shows before attending Ross Knight's opening at Team Gallery. Once again I'm made aware how provincial and behind the times the art world is in terms of technology, specifically weblogging.
I asked the desk attendant at Henry Urbach Architecture if the gallery had a website and if I could right-click, or otherwise save, an image of Marsha Cottrell's off of it. (Marsha's been promising me jpegs for eons.) He said yes, the gallery had a website, but he didn't know if images were save-able. I said, "Well, if I could save an image to my hard drive, I could pop it up on my page with a short review, within a day. Instant art criticism. Fantastic, right?"
I googled the gallery and couldn't find it, so I fished the printed invite out of my backpack, entered the URL, and got one of those Flash sites with slowly materializing letters. Uggh. It has an automatic, can't-stop-it-once-it-starts slide show of some pics from the show, but if there's a way to cap those, other than cropping a blurry screen shot, I don't know of it. You can't save by right-clicking. So much for the instant review. I'd post the link to the gallery here, but the site disables the "back" button, so you'd be trapped in Flash land. Macromedia is a menace.
As I made my rounds, people asked me what I was up to and I said, "makin' art, and workin' on my weblog, which is a way for me to be a critic without really bein' a critic, ha ha." More puzzled looks. "You know, weblogs? Started in the geek world, but now writers, political commentators, ordinary Janes and Joes have them? Becoming a potent political force? Brought down Trent Lott? Major social trend?" Puzzled looks, sometimes impatient looks, like, why are you telling me this crap?
A friend of mine who read my earlier post on this subject asked, "Yeah, what's up with that? How come more people in the art world don't have weblogs?" She didn't find my arguments--the art world worships print, etc--all that persuasive, and wanted to know the real reason. Why has no young critic used a weblog to put forward theories that rock the lazy status quo? I'm afraid it's because such people do not exist in the art world anymore. Everyone reads the Friday Times and Artforum recap-preview-recap-preview-recap-preview-recap-preview-recap-preview-recap-preview (etc) and that's art criticism, folks. There are no theoreticians except artists themselves, and they don't necessarily have the time or inclination to keep updating a weblog.




---
Simon Reynolds has finally traded the
browser-filling text-blocks
on his website for the semi-browser-filling text blocks of a
weblog
, and it's worth checking regularly. Currently up are his
2002 Faves
. One of the best (practically only) writers on the electronic dance music scene, he helped me get a handle on all the breakbeat techno & hardcore I was obsessively taping off radio in the early '90s, so I was pleased to see I owned 3 discs in his Top Ten: Kaito and Boards of Canada weren't surprising, but I can't believe he endorses Recloose's
Cardiology
! In an earlier post I described it as "music to make street-purist Simon Reynolds curl up in the fetal position." I love that CD, of course, but what a shock.
He still maintains his homepage, and the articles there on the Electroclash scene and the movie 24 Hour Party People are both excellent.




---
I've decided to follow Cory Arcangel around on the lecture circuit (not really, but this was the second talk of his I attended this week). Last night he spoke at Dorkbot-NYC, a once a month gathering that meets at Columbia U's Computer Music Center. The theme of these
events
is "people doing strange things with electricity." Dafna Naphtali and Liubo Borissov also gave talks. (Photos of the event are
here
. On the top row, Cory is the third picture, in cap and sneakers; that's me in the second pic, holding a cup.) After the speakers I was privileged to see an amazing sight, a shrine before which all electronic music fans should bow in reverence: the original synthesizer, a pre-Moog (1950s) phalanx of hardware built by RCA that literally fills a room. It's a staggering, rack mounted monolith of vintage knobs, toggle switches, patch cords, and vacuum tubes, with keypunch equipment (to enter the music score) resembling manual typewriters holding rolls of player piano paper. The behemoth hasn't been fired up in about 10 years, but it is a thing of beauty.
What follows is something I rarely do, which is dump a bunch of raw notes on the lectures. I'll be reshaping these into an argument eventually. In a nutshell, Arcangel rejects current pre packaged software and makes art at the most basic level by getting inside a Nintendo cartidge and reprogramming it; the other two artists use state of the art digital tools taken straight off the shelf, either alone or in combination with other software. Either can be valid ways of working but in this instance I prefer Arcangel's end results. Because he's a good artist, NOT because he can program.
Cory Arcangel
video game systems - first proprietary code
6502 chip is key: runs atari, commodore 64, early apple
beige recording artists (arcangel, davis, bonn, beuckman) discover it also runs nintendo games
makes political, aesthetic sense to work on that level (reprogramming chips)
you don't rely on proprietary code
you don't rely on libraries
study of the limitations of the system
learned how to crack them thru "lots of emails to swedish kids"
mario bros. - earliest, crudest nintendo game
arcangel uses EEPROM (electrically erasable programmable read-only memory) chip burner - like cd burner - to make modifications to chip
used by "home electronics nuts"
shows ambient video of mario clouds: "that's kind of like the new style"
"actual factory-soldered mario clouds"
"not a copyright violation because not a copy"
it's important to do things down in machine language
assembly language is simple: "if______/then_______"
easier than java
audience member: "so what you're saying is, you don't have to know as much, you just have to do more work"

(UPDATE: I asked Cory by email how assembly language differed from development language (see below); he replied: "Well to put it most simply, one does not have any 'objects,' or routines to inherit from. On a new computer programming language you can usually write something like 'draw red pixel at 10 pixels down and 20 pixels across on the monitor,' and it will appear. In assembly language you have machine level access to the computer therefore you have to actually write the code that will place that pixel there because aside from routines built into the hardware, you are not forced to inherit code from other people. So on a Nintendo you have to wait for the electron beam to jump to the top of the screen [happens 60 times a second], and then put values in certain registers. Then in the brief period that this electron beam is jumping you can draw some sprites to the screen at the values you poked into the microprocessor. I like it because once you get down to looking out for the TV's electron beam, you know you are getting some low level access to the idea of 'video.'")
for super mario bros clouds piece, Arcangel used text editor to identify specific clouds
i shot andy warhol based on hogan's alley
less popular shoot em up game - "pre duck hunt"
cartridge has 2 chips - one for operating system, one for graphics
couldn't do it all in graphics; hogan characters were symmetrical and andy was asymmetrical so had to go into os to find mirroring (UPDATE: Super Mario clouds and Andy Warhol are diffferent types of hacks, per Arcangel: "[Andy] is a hack of the graphics chip although I also had to modify the program chip a little bit because I had to change the colors, and also flip some graphics around because my new characters were asymmetrical. Clouds is just a program chip hack.")
to write the code for the chip, Arcangel uses a 6502 assembler running on a mac; the assembler's code is MPW (Macintosh Programmer's Workshop), a game development language, which runs on top of unix (UPDATE from Cory by email: "An assembler is a program that takes assembly language [which is a kind of short hand] and turns it into machine code [which can be burned onto a chip]. My assembler happens to be a port of an old UNIX program that runs under MPW on a Macintosh. There are many different assemblers for many different platforms so the idea of it being MPW and from UNIX does not really matter. Sometimes I use an assembler that runs on DOS, and NOW I use one that runs on OSX called nesasm. Usually I would not get into that, but I suppose someone asked me a question and I had to explain exactly what I was using... Actually now I am trying to not use an assembler at all and just write the compiled machine code by hand in 1s and 0s. Just for a challenge. This is because Joe Beuckman and I kinda came up with the idea to be a real BEIGE members one has to write in 1s and 0s.")

cartridge hacks done in rom, then tested in emulator (UPDATE: as Cory explained later by email: "an emulator is another piece of software that runs a compiled program for the system it is emulating. They are mainly used so people can play games they grew up on, using modern computers. So for example with a Nintendo emulator, I can play super mario brothers on my MAC." His preferred one is RockNES)
"harder to reverse engineer than engineer" - one audience member takes issue

other project: collaboration with paper rad (Providence RI collective)
telling story with projection in background
(like puppet show?) no, 8-bit version of machinima
one more project: rave videos
writing programs with the mario software (demonstrates blinking geometric grids made from changing background colors - a high speed, better version of jeremy blake's early grids imho) taking advantage of mario's ability to sync up with the tv raster at 60 lines per second refresh rate, which is twice as fast as video (32 lines per second)
tag line: "twice the psychedelia"
audience member: will you ever work with game boys?
"game boy irks me"

Dafna Naphtali
"higher end audio"
uses MAXMSP music software
performance oriented
processing audio live
digital chamber-punk ensemble

Liubo Borissov
video synthesis from music
"making fire dance"
synthesized tabla drum - jerkily "dancing" flames (i did not like this - too new age)
music program used: reactor - modular synthesizer like maxmsp
edits "standard fire synthesis effect" in aftereffects, using parameters based on sound.
"communication" - looks like advanced early 90s rave video
ballet dancer with superimposed abstract painting
uses poser program for video of dancer
poser creates transitions between one pose (motion capture) and another
traces of shadow of dancer correspond to sound data
uses studio artist paint program for blue painting overlaying dancer
g-force moderates between studio artist and sound
poser option: "render as painting"
example of mapping sound to image: bass to physical size




---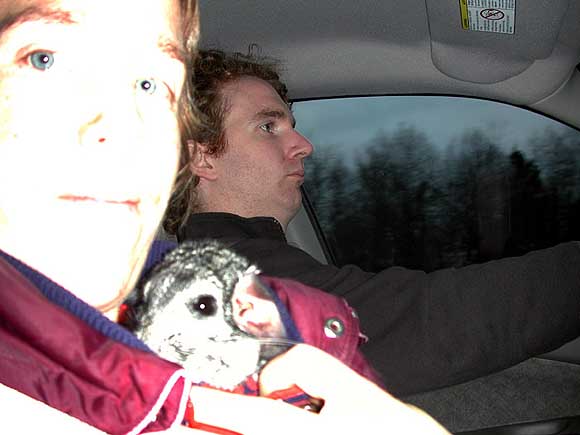 Kristin Lucas, Joe McKay, and Buddy the Chinchilla driving to Dover, Delaware (photo: Kristin Lucas)




---
Bloggy has kindly excerpted
Helen Thomas' grilling
of Bush press secretary Ari Fleischer from the White House press briefing transcript, which was linked to by cursor.org yesterday. She asks the pertinent question: "Have [the Iraqis] laid [a] glove on you, or on the United States, in 11 years?" and Fleischer dithers in response. As troops of our "volunteer" army, aggressively recruited from schools where kids don't have a lot of career choice, are shipped overseas for the latest slaughter, and as the economy stalls while we all wait to see if George "Dry Hole" Bush's latest gamble is going to pay off, a lot more people should be asking this question.
Meanwhile, the left dithers about whether it was proper for a few Communists to be involved with the protests last fall, and everyone else is too scared or broke to get on a bus to demonstrate. Oh yeah, and I guess there are people out in the red states applauding the imminent demise of the TV Baddie of the Week. As Bush has proved by substituting Saddam for Osama, these villains are absolutely interchangeable.
Sorry, but this news of troop movements and pictures of girls kissing Marines at airports has put me in a really glum mood.




---
Tonight I attended an evening of electronic/noise performances, organized by
LoVid
at Gale-Martin Fine Art in lower Chelsea. The theme was "artists working with homemade electronics and electronic signals," and the vibe lay somewhere between that photo of Microsoft employees circa 1975, fashionwise, and a Survival Research Labs performance in 1986, intensity level-wise.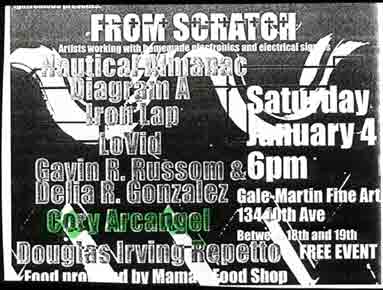 Cory Arcangel began with a Power Point presentation about the history of Motorola 6502 chip, used in Apples, Commodores, etc., which "made low cost home computing possible." He then gave an amusing, faux-sloppily illustrated
step by step procedure
for his Nintendo cartridge hacks, which involves busting open the cartridge and adding to/deleting from the existing chip with an emulator program (to write code compatible with the Nintendo software) and a chip burner (to put the new code on a chip, which is then soldered into the cartridge). On display were two of his recent efforts, an abstract honeycomb version of an old-school shoot-and-run game, and an ambient video of slowly scrolling cartoon clouds, all that remained after subtracting out most of a Mario Bros. game. Following Arcangel's lecture, which drew appreciative laughs, Gavin R. Russom & Delia R. Gonzalez set everyone's teeth on edge for about a half hour with a dense, wall-of-sound feedback assault, produced with bolted-together analog equipment. Both musicians performed in a kneeling position, with two of the crudest portraits on canvas I've ever seen obscuring the control consoles. This was OK but too long. Next was LoVid (Tali Hinkis and Kyle Lapidus), a really tasty combination of knob twiddling sound and fucked-raster video. Some exceptional psychedelic static patterns projected while the music blurted and coughed. The last performance I stayed for was
Nautical Almanac
, a kind of Frankenstein synthesis of soldered analog patch bays and hacked Casio-type digital instruments. The two performers did primal scream spazz-outs with mikes in their mouths (a la Lux Interior of the Cramps); the sounds that emerged from the alligator-clip-sprouting instruments were as unpredictable, rapidfire, and sophisticated as stuff from the Miami (Schematic) glitch school, but really raunched-out and ball busting. It was nice seeing/hearing all this chaos inside the denuded white walls of one those monster Chelsea art-boxes. Great evening.
---
Thanks to
bloggy
for linking to my site. The posts on his page are much more wide-ranging and culturally evolved than the ones here. He (Barry) is a flaneur in the inquisitive, Baudelairean sense, soaking in what New York and the larger Web world have to offer in terms of art, music, books, you name it. He's also politically astute, and especially good at close reading of the media for its quirky little habits, such as reportorial bias and blind subservience to the power structure.
He's also one of the few people in cyberspace tracking the art world. A few posts back, he lamented the shortage of New York art blogs, and it's true. There are websites galore but not much journal-cum-critical writing that I'm aware of. Artnet.com has had "artist's diary" columns come and go, but they're often larded with malicious gossip or trivialized by constantly quoting prices of art objects. (Sorry, Walter, but the mercantilism is really annoying!)
I started this weblog two years ago next month, and have watched in amazement as blogging has transformed the political world (e.g., the demise of Trent Lott), while at the same time having nil effect on the art world. Artists and dealers are still obsessed with print magazines as the ultimate validation for their efforts. But then even with print media, if I can generalize horribly, art worlders are less interested in batting ideas back and forth than having a piece of stamped parchment that says This Is Important Work. Dealers will put a 100-word semi-diss by NY Times writer Grace Glueck in an artist's book over a thoughtful 500 word review from an obscure magazine (as you may have guessed, my writing's hit the cutting room floor this way). As an artist, of course, I would include both articles!