tom moody
---
View current page
...more recent posts
---
It sure looks like the Republicans stole the Presidential election
again
in 2004, after Bush squeaked in with rampant cheating in 2000. That's going to be the position of this page, at any rate. As the
AP article
excerpted below shows, the Ohio numbers came in much closer than initially projected, once the count was finalized. Factor in the 2 or 3 percent "spoilage" ballots customarily thrown out for bad chads, etc. (which reduce minority votes), electronic voting machine irregularities, and the last-ditch push by Republicans to keep voters away from the polls, and in all fairness a recount should be called for. Until then, it's fair to scoff at Republican claims to represent the majority of this country or (more laughably) to have a mandate. Bush owes his win to energetic Christian zealots, corporate-class cheaters, and wimpy Dems who fear what people might think if they fight.
President Bush's victory over John Kerry in Ohio was closer than the unofficial election night totals showed, but the change is not enough to trigger an automatic recount, according to county-by-county results provided to The Associated Press on Friday. Bush's margin of victory in the state that put him over the top in his re-election bid will be about 119,000 votes, which is smaller than the unofficial margin of 136,000, the county election board figures showed. That means Kerry drew closer by about 17,000 votes. The margin shrank primarily because of the addition of provisional ballots that were not counted on Election Day and were not included in the unofficial tally. Overseas ballots also were added to the count in all 88 counties. Secretary of State Kenneth Blackwell will certify the results Monday. The president's margin of victory was about 2 percent, not close enough to require an automatic recount. That happens only when the difference is 0.25 percent or less. Bush beat Kerry nationally by 3 percentage points.
---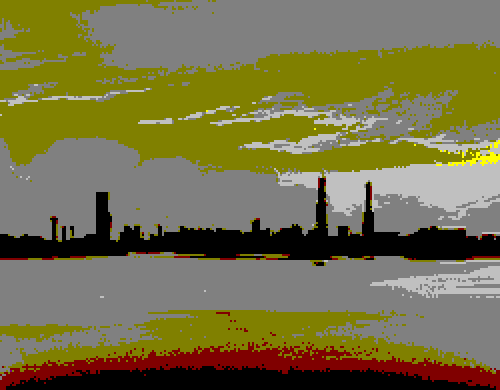 Patlabor - The Mobile Police: Tokyo Bay .GIF




---
A few more (nerdy) thoughts on circuit bending and whether rewriting software for old games, toys, appliances, etc. should be included in it. Paul Slocum got lumped into the discussion because he participated in the recent
Bent
festival in New York and his modified Epson printer--as opposed to say, the vintage computers he works with--seems more in the bending spirit of altering consumer devices we don't normally think of as music-producing. That piece I would call bent, perhaps software-wise as opposed to hardware-wise (Slocum proposes "circuit folding" but that's not as blunt or catchy as "circuit bending"). As for whether bending produces boring work, Slocum notes in the comments that "lot of those ['80s] toys and keyboards sound crazy and awesome whether they're modified or not." Good point; j, on the other hand,
says
:
Circuit bending makes useful audio material if you have a well 'bent' machine which when in the hands of an experienced bender is mostly calculated as well.

That said, circuit bent machines' random nature are also an asset. They can provide phrases of sounds that just could not be made up in one's head.

I do think the distinction made between circuit bending and folding is interesting but one is not necessarily better than the other.
I'm for extending "circuit bending" to include hacking, with educating our ears to hear the distinctions good but still optional. ("For additional credit, is this [insert sound here] mechanically bent, virtually bent [i.e., within the program], or hacker bent [i.e., made by rewriting the program]?") I have a slight stake in this, having made
some visual work
that could be called circuit bent, even though it involved neither programming nor working within a program nor even getting out the soldering gun. Any citations to
The Wire
or
Electronic Musician
or other places where this issue might have been discussed would be appreciated. Also, it'd be great to hear more from Paul about the "bends for the Fisher Price Pixelvision video camera" he mentions--haven't seen any work done with that machine in quite a while but what I saw was inspiring.
UPDATE:
Slocum continues to object in the comments to being called a circuit bender. I guess my thought would be, if someone asks you to be in a bending festival again don't do it. You'll have to trust me that the scene in NY is interesting. I don't know how you can judge it surfing around the internet, or living in Dallas (sorry to my friends that stay, but you need to get out of that Baptist hellhole). The definition of bending is as expansive as you want to make it.
---
A while back I got really mad on hearing Harry Nilsson's lovely and quirky song "He Needs Me" in a shoe commercial and wrote a
post where I used the F word a lot
. Nilsson was an interesting musician and it was nice hearing "Put the Lime in the Coconut" in a Williamsburg bar recently. "You're breakin' my heart, you're tearing it apart, so fuck you" was also a groundbreaker in its day. Anyway, aspersions were cast on the Nilsson estate over the shoe thing and an anonymous commenter
took me to task for it
:
regarding your harry nilsson rant... i guess they don't call you moody for nothin'. after harry nilsson's money manager, Cindy Sims, stole everything from him and was sentenced to prison, Harry was forced to try to sell some of his songs for commercials... it doesn't surprise me that his songs are still being used now in commercials... after his fortune was stolen.

harry singing a ban deodorant ad...
Assuming this is true, sorry.
---
Paul Slocum emailed to say he appreciated the
post on his work
but perhaps isn't so happy to be slapped into the
"circuit bending"
category:
Is my work really circuit bending? key differences: (1) that traditional circuit bending has more of a chaotic element to it (placing wires without knowing exactly what's going to happen) where my stuff is mostly deliberate and calculated. And (2) while traditional circuit bending doesn't require much technical expertise, my work requires a ridiculous amount of geeky programming knowledge. (3) That my work really falls into the realm of software modification much more than hardware modification. All of my devices can easily be returned to their original state either by removing a cartridge or EPROM. Not so of circuit bend items. My stuff's like "Circuit Folding" or something.

In your blog, you are usually pretty unforgiving of redundant art. Does circuit bending deserve a bit of a thrashing here? Reed Ghazala thoroughly explored the idea what, like 25 years ago? And wasn't Nam Jun Paik kind of a bender as well (long before that)? I love that bending is accessible to so many people, but in many cases the audio results are totally unlistenable. The process and concept is the interesting part, and that's been so explored. It seems like it's time for something beyond a confused Speak & Spell and croaking SK-1. I'm kinda torn about the whole thing.
I described the genre as "emerging" but Ghazala says in the interview linked above that he started using found consumer electronics to make sound in the '60s. But the "instruments as sculpture" aspect of the trend perhaps isn't so interesting. The Nautical Almanac machines
posted earlier
intrigue because they look like form following function, whether that's actually true or not. (Genuine bricolage as opposed to self-consciously arty bricolage--though the guitar body is pushing it.) Similarly, just because one rewired a consumer device doesn't make the sound interesting. Again, I liked NA the times I heard them as much for the mic-swallowing, pushing-the-limit intensity of their live act--and complex, hybrid analog/digital sounds I didn't think I'd heard before--as the tweaking of instruments. The question here is whether circuit-bending is a big or well defined enough field to incorporate Slocum's light, software-based interventions into existing equipment and Cory Arcangel's hacked Nintendo cartridges. Maybe that is the evolution of the genre, rather than something completely different. Which is not to say I'm not guilty of indulging in a facile journalistic hook.
---
New track: "Kill Maurice" [mp3 removed]. I made a video to go with this but I think I'll hold off on posting it. The molecular imagery seems too zany for this music. I learned a lot about editing, and sync-ing sound to images, but I'm starting to think I really hate video. It sucks your attention and demands more, more, more to a much greater extent than music, still imagery, or even looped .GIFs--it's an almost bottomless pit of (diminishing) content. There's a reason Billy Grant's rapidfire, overloaded videos are the way they are--it's what the medium has conditioned our eyes to expect. I've made three short vids now and dislike them not as videos, but philosophically, in that they seem to be trying to play the same game. Maybe I just haven't found the right fit between the music I'm writing and the imagery. But I also hate most MTV and it's hard to find a way around that model.
---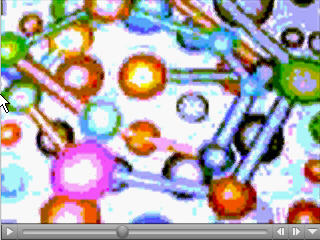 Above is a screen shot for an animated .GIF of mine that I saved as a 3.32 MB Quicktime movie. It depicts the growth of endorphins in a test subject watching Wheel of Fortune with his relatives at Thanksgiving (not really, I just put that in as a grant-friendly soundbite). Click
here
to view. One orange sphere is an "anomaly."
---
War and politics talk has been muted on this page since the shock of learning the exact number of torture-toleratin' Jesucrats out there (59 million, wasn't it?). Comments continue to trickle in along the lines of, "now let's not offend the Bushvoters." Of course I'd like those folks to admit their bloodthirsty instincts prevailed over what was best for America in the larger world, but my strongest bond is with people who marched against the war or had a sick feeling in the pit of their stomach when they saw the Abu Ghraib photos, as opposed to racist glee, numbness, or the naive belief that it was the work of "a few bad eggs." True, Kerry never mentioned the pictures in the campaign, but he at least had a conscience about US military excesses at one time in his life. Conventional wisdom had it that if he'd come off as a peacenik he would have lost even bigger. Now we're back to the Vietnam days of destroying villages to save them and glorifying
Marlboro men
for military exploits that mean...what, precisely? Oh, yeah, quelling local rebellions of Muslim extremists so that democracy can be spread to the rest of Iraq.