tom moody
---
View current page
...more recent posts
---

"Heavy Heavy Hippos" [mp3 removed]. Hey, I had to call it something. Sort of a lite dubby rock and roll tech house thing.

Update: Something I plan to change on this: there's a dropout at the halfway point where the remaining kit is panned too far to one side--sounds too much like you're losing a channel. Update 2: Fixed now.
---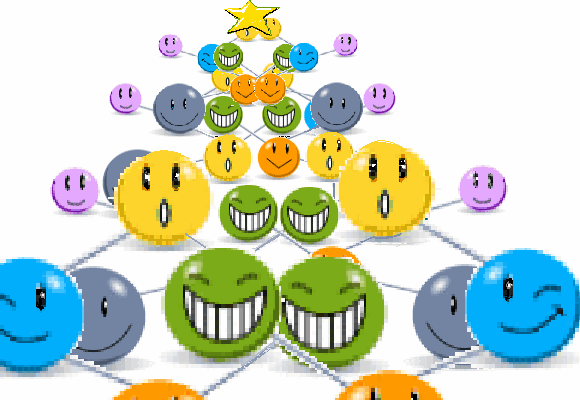 May your holidays be filled with joy and
tensegrity
. (Six "basic smileys" were lifted from some dumb google ad on Josh Marshall's site and the rest is MSPaint manipulation to make this festive molecular tree.)
Hope everyone is well, thanks for checking in on Christmas day. Posts will keep coming, or that's the plan, anyway. Signed, Santa.
---
The deep-rooted accident of the duplicate [Captain] Kirk turns a questioning spotlight on the "essence" of the transporter, which is the absolutist phantasmagoria of total knowledge of a person captured in a digital pattern or "quantum physics" snapshot of [his or her] subatomic particles. ["Evil Kirk's"] appearance brings into relief a deep-seated anxiety about the philosophy of cloning and the "too perfect" operational system of quantum information science and the coming digital-quantum teleporter. Techno-culture's "vision" or fanciful goal of the transporter is the contemporary project of a wholly self-contained scientific system and hyperbolic construction of a fully self-referential human subject without real others. It is the dream of a human being understandable entirely through her formation, identical to herself, and leading a completely knowable existence. "The Enemy Within," as literature, questions this totalizing edifice through the tropes of the accident and the double.
More from Alan N. Shapiro on the overt and covert agendas of
Star Trek
and the "
Star Trek
industry," this time from his excellent book
Star Trek: Technologies of Disappearance.
It's a wised-up, culture-crit antidote to all those Physics of Star Trek type books. An earlier post on Shapiro is
here
. I hadn't really considered it before: Richard Matheson, writer of
I Am Legend, The Shrinking Man,
and other scary fables of modernity is asked to pen a
Star Trek
episode, early, early in the series. His dark, sardonic mind begins sifting through the relatively new TV show's available story hooks. "Aha, the transporter," he thinks, going right for the hot button anxiety viewers can't help but feel about this miraculous device, which disassembles the body and forces users to put their trust in some unknown techy in their most ultimately vulnerable, unwhole state. All this assumes Matheson didn't just take over someone else's script treatment, but in any case, what emerges is the Jekyll and Hyde tale of Captain Kirk split into "Evil Kirk and Weak Kirk," each unable to function without being reintegrated with the other. Citing Paul Virilio, Shapiro frames the ingenious tale in terms of what it reveals about technology's "built-in accidents waiting to happen."
---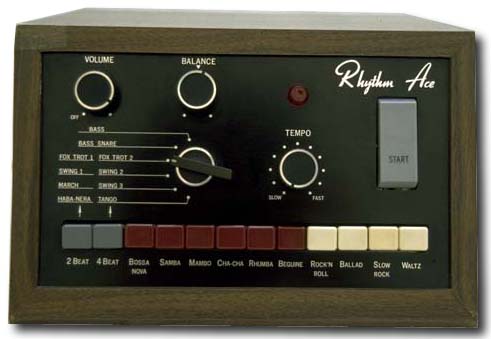 "Drat Fink Was Here" [mp3 removed].
I told
drat fink
that in appreciation of his generous time downloading torrent files of vintage drum machines, I would name a song using the files in his honor. This piece is kind of um--spacious; it's meant to be a shrine to the sounds produced by the 1974 gem above (or something similar from that time period by the Ace Tone company--not sure exactly which unit got sampled). Photo from the
Keyboard Museum
.
---
The blog
Anaba
posted some photos of an "outsider artist" mural done in the employee break room of a chain grocery store in upstate NY. It's beautiful work, but I'll let Anaba tell you its location and the name of the creator. I know we all fantasize about fame and fortune allowing people to quit their day jobs, but employers aren't Medicis (at least for very long). Projects like this usually exist only in the tiniest cracks of the ownership society. So why am I blabbing? Probably the same reason Anaba is: I want you to see those human-sized vampire bats eating that wolf-lizard, and the scrofulous Lovecraftian obscenity on the right engulfing that forest of fleshy pseudopods, which could be prescient glimpses of the future of life on Earth, or a stark allegory of present day emotions. (Not mine, of course!)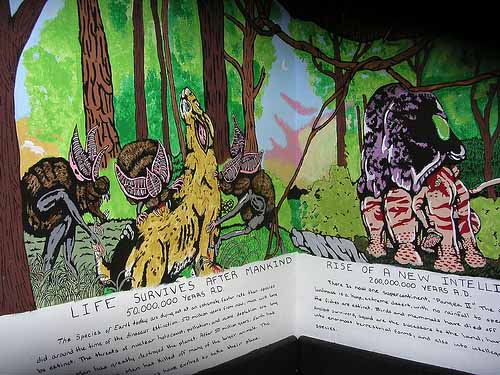 ---
My favorite Christmas movie, and the best Frank Capra movie IMHO, was on TCM last night:
Meet John Doe
(1941). Robert Osborne introduced it as a "delightful comedy"--what has he been smoking? Sure, it's funny, Capra earned his chops doing Mack Sennett one-reelers, and whenever the plot lags, which is never, someone is always falling over a chair or, in one notable bit, messing up a hand painted sign on a new newspaper executive's glass door. But the theme is pure dystopian science fiction: What if the Second Coming of Jesus were a plot engineered by Hitler?
Jesus is Long John Willoughby (Gary Cooper), a down and out minor league baseball player who becomes a love-thy-neighbor speechifying "John Doe" to millions of Americans without hope. Hitler is D.B. Norton, who has his own personal police force (shades of Bush and Blackwater) and owns as much major media as Rupert Murdoch. Norton secretly underwrites the "John Doe Clubs" that spring up around the country in the wake of a popular radio speech by Willoughby (shades of Cindy Sheehan's grassroots appeal), and although the clubs are supposed to be apolitical and anti-politician, the media tycoon plans to have the bought-and-paid-for baseball bum announce the "D.B. Norton for President" campaign at a national "John Doe Convention" (shades of Promise Keepers, Million Man March, etc.).
Willoughby is a media creation, the brainchild of a cynical reporter played by Barbara Stanwyck, who has Rovian instincts for tapping aggrieved populism, while Norton supplies the dirty tricks. According to an interesting Capra bio I read, Willoughby is a stand-in for the director, who became enormously popular after the success of the populist films
Mr. Deeds Goes to Town
and
Mr. Smith Goes to Washington
but as a well paid Hollywood functionary was always uncomfortable with people's expectations that he would "stand up to the system" or be a general champion for socialist causes, particularly as Hollywood's politics started to shift rightward after the Depression. The bio points out that Capra was slightly fixated on suicide. As in
It's a Wonderful Life
,
Meet John Doe
's plot hinges on a character about to jump from a high place.
Like the better-known and loved Jimmy Stewart movie,
Doe
is dark, it's deep, and it's great.
---

"Crickets" [mp3 removed].

No. 10 in the suite "10 Songs for Analog Drum Machine and Sidstation."
---
"Curtains for You" [mp3 removed].
Revised and slightly expanded version of a piece previously posted. I essentially made all the changes I said I was going to make: the Farfisa organ now has wah-wah pedal (after the break), the melody has more variations and syncopations than the original placeholder riff, and delay pedal and percussion effects have been added. I'm sure I could keep thinking of little refinements, but it's past the skeletal phase at least.