tom moody
---
View current page
...more recent posts
---
An excerpt from Efrain Calderon Jr.'s
review
of the JODI show at vertexList (edited wiki-style and for length--not too obtrusively I hope):
Taking up most of the space, however, was the multi-monitor "Composite Club." Part of JODI's current "screen grab" period, the piece documents different results obtained from their hacking of Playstation's Eyetoy video game device. Eyetoy incorporates a camera input that has direct effect on gameplay: the software interprets speed of movement, direction of movement, as well as light and dark parameters. Instead of the movements of players JODI substituted popular movies, cartoons, and classic films as camera input.

The end product is a simulacrum so complex Baudrillard might have had a tough time unpacking it. With their recordings of video game programs interacting with prerecorded works, JODI shows us the absurdity of each bit of media as it tries to come to terms with others with totally different value sets and determinations of success or failure. The video game plays against a movie that is unaware that it is playing a game. The game is exposed as nothing more than its own interpretation of various physical stimuli, destroying any suspension of disbelief.

In one screen, for example, the Spider-Man movie was prompted to file the virtual nails of an Eyetoy game "customer." Spidey, doubled in speed, was aided by the director's fast cuts to help trigger the right game response. Though ultimately Spider-Man lost, the game still proclaimed "You met the quota." This might be a comment on modern cinema's box office success even with trite storylines and regurgitated concepts in our "remix"-dominant culture. Most likely though, JODI is exposing the very absurdity of perception and communication. The inability of these different media to interact correctly could apply to our own world. Each person's perception of the same thing is completely unique. Whether each film wins or loses the game is unimportant. The game itself is unimportant, and the fact that it is pre-recorded only points this out further.

As these ideas flooded my head, I realized I could barely make out the sound effects over the chatter of the reception. I tried not to focus on a specific screen of "Composite Club," and as I moved my eyes around I realized that I was as much a part of the "club" as anyone else in the room. Couples and friends were talking and laughing, each enjoying the artwork in completely different ways. Social norms played out at the refreshment table, with lines forming, and polite "thank you's" and "you're welcomes" escaping the guests" lips. Why did one woman choose the Chardonnay over the red wine? Did that blonde really want to talk to that guy? These questions seem just as much a part of "Composite Club" in their absurdity.

Though mass produced, Eyetoy's code is written like any other computer programmed device but its unique code only makes sense to its processors. Similarly, at the core, our ideas are personal and unique, occasionally hacked and exposed by monitors that can reflect our own limits and inabilities in each of our own life long interactive "games."
---




























From the vault: TV static GIF grid,
2003
. I posted this earlier today with some links to other artists doing things with fake TV static GIFs but I decided to stop being so damn nice all the time. And let's face it, the idea's been around and has been pretty thoroughly done. I like the way this one interacts across the borders of the grid--it suggests some hidden magic eye message. I find it very hypnotic, myself.
This grid has vertical white stripes on Bloglines, and probably any site that reproduces it that uses CSS and ignores my html commands for it not to have spaces. CSS stands for "clients so stupid"; it's a design language that adds spaces around things because it assumes you don't know what you want for your own web page. If someone else's art you're reblogging specifies no spaces, you have to add a command telling it to ignore the spaces it is putting in. Genius! (The future of the web makes me shudder.)
---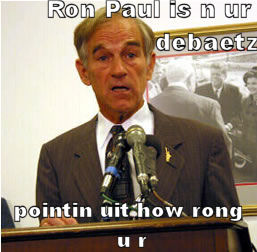 [thanks to j in jc]
Paul
:
" It is conveniently ignored that the only authentic way to best support the troops is to keep them out of dangerous undeclared no-win wars that are politically inspired. Sending troops off to war for reasons that are not truly related to national security and, for that matter, may even damage our security, is hardly a way to patriotically support the troops.

Who are the true patriots, those who conform or those who protest against wars without purpose? How can it be said that blind support for a war, no matter how misdirected the policy, is the duty of a patriot?
---

---
The unifying themes of this blog and the artwork depicted here (mine and others') are stated on my
main page
. That statement was written in 2001 and has only been tweaked slightly since.
I believe any serious artist these days deals with information technology because that's what makes the world go round (at least till the fuel and food runs out and our society resembles New Orleans post-Katrina). The cult of "painting and sculpting" (and the collectors who support it to the tune of billions) is either about burying heads in the dirt or actively denying this prevalent reality through some imagined return to the medieval.
But tech art also has its cult--futuristic assumptions that drive advertising, design, and consumption. That's why the artwork is low-tech here and why mute molecular forms, synthetic cubism, and '80s-style computer graphics are constant themes--all are utopian forms where the bloom is off the flower (kind of like the
DHARMA initiative
).
Guthrie Lonergan has identified two types of artists using information tech--hackers and "defaults" artists. I'm in the latter camp, using programs pretty much as they were intended and in ways that "blend in" with the wider Web the way a Pop artist's work blended in with commercial culture. The underlying intent is still art, but doesn't announce itself in the language of academic conceptualism or overt geekspeak.
---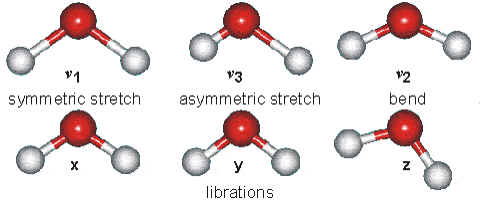 GIF artist unknown
---
Thanks to
Paddy Johnson
for the nice write-up of BLOG. The show at artMovingProjects is still ongoing--the gallery is open Thursdays through Sundays 1-6 if you want to read this in a "white cube" setting. I might even be able to come out from inside the pedestal and talk to you. (Recycled joke.) Now that the opening has passed I'm doing the exhibition remotely, from the studio. Kind of like "phoning it in" except it's harder work.
---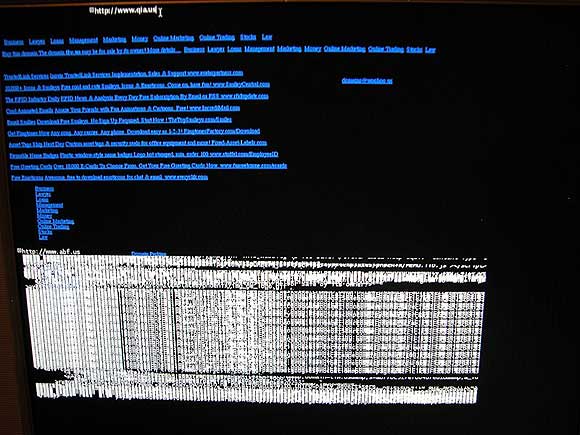 Student essays on JODI's current New York exhibition, from the
vertexList blog
. Efrain Calderon Jr.'s is especially thorough and helpful and does not read as if it were written at gunpoint. And here are some shots of the JODI
opening
, also from the vertexList blog. Looking forward to seeing the show this weekend.
A few months back a NY cyber art dealer made a comment here expressing regret that the dealer's space could not show JODI "because of the lack of support for this type of work." In fact, none of Manhattan's supposedly computer-specializing galleries stepped up, despite JODI's cred and long history as Dadaist hacker artists. Fortunately two galleries saw an opportunity: vertexList in Brooklyn and
And/Or Gallery
in Dallas, which are hosting simultaneous, feed-connected JODI shows. My understanding is that sales of unique and editioned works have been made at both venues, so, so much for that "lack of support."
Update: In the comments, VONA says, "JODI has shown at Pace and a big solo show at Eyebeam in the last few years. Itís somewhat of a distortion to imply, as I feel this post does, that they are locked outside a commercial art realm." My reply:
Eyebeam is a non-profit space--not sure how that show was in the commercial realm. As for the Pace exhibit--that's one group show, not much of a commitment. As discussed here, Pace seems to have flubbed that installation, projecting the wrong DVDs on a cross-shaped wooden construction built specifically for another video work.

Anyway, the point of this post is JODI's doing fine in the commercial realm, with galleries outside of Manhattan.
Update 2: Turns out the issue with VONA wasn't that I was distorting the record but that new media artists need to "forget" showing in Chelsea (still the key to wider art world recognition, last I heard--not a guarantee but the place that collectors, curators and writers tend to go to to see art) and I wasn't sufficiently respectful of this aspiration of VONA's.