View current page
...more recent posts
Coney Island RIP?
- steve 6-04-2007 9:27 am [link] [7 comments]


west village wild turkey


- bill 6-02-2007 8:33 pm [link] [6 comments]


the psych animation of vincent collins


- bill 6-01-2007 3:46 pm [link] [2 comments]


Should The New York Times and The Economist Live By The Rules Of the Internet?


- bill 6-01-2007 3:39 pm [link] [add a comment]


Take A Dip:>)
http://www.floatingpool.org/
- Skinny 5-29-2007 4:40 pm [link] [3 comments]


A branch of May…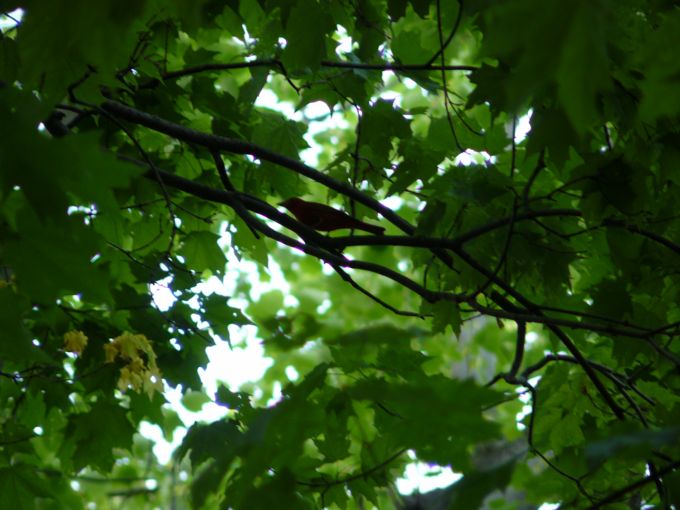 contains a Summer Tanager, presaging the change of seasons…

- alex 5-29-2007 3:42 pm [link] [5 comments]


Endangered, hunted, smuggled and now abandoned, 5,000 of the world's rarest animals have been found drifting in a deserted boat near the coast of China.
The pangolins, Asian giant turtles and lizards were crushed inside crates on a rickety wooden vessel that had lost engine power off Qingzhou island in the southern province of Guangdong. Most were alive, though the cargo also contained 21 bear paws wrapped in newspaper.

According to conservation groups, the haul was discovered on one of the world's most lucrative and destructive smuggling routes: from the threatened jungles of south-east Asia to the restaurant tables of southern China.





- bill 5-28-2007 8:05 pm [link] [add a comment]


some people have all the luck


- bill 5-25-2007 3:54 pm [link] [9 comments]


biking through the holland tunnel


- bill 5-24-2007 2:31 am [link] [add a comment]


whales have resumés? or perhaps I have dyslexia.
- mark 5-19-2007 3:11 am [link] [3 comments]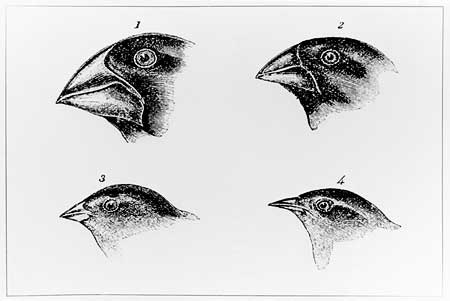 Darwin's drawings of variant heads and beaks among Galapagos finches





darwins letters debut online


- bill 5-16-2007 6:06 pm [link] [1 comment]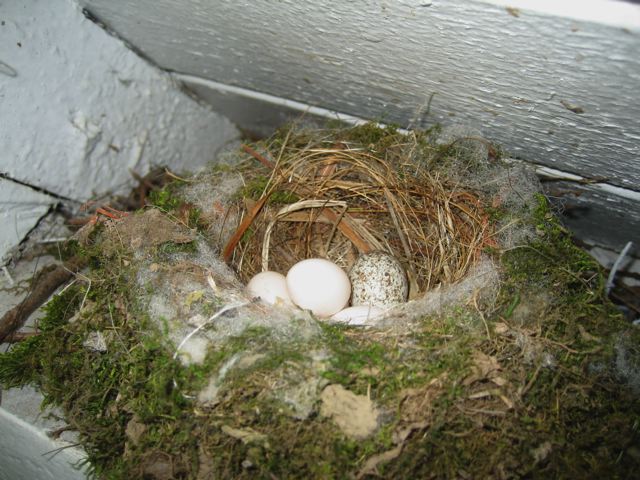 hey aw, john wants to know is this is a cowbird egg in a phoebe nest?
- bill 5-14-2007 8:41 pm [link] [8 comments]


crashtastic

too scared for scarred.


- bill 5-13-2007 6:18 pm [link] [add a comment]


someone mentioned this place to me recently. union hall in park slope. 5000sqft bar/music venue with two indoor bocce courts. is nothing sacred?
- dave 5-12-2007 8:40 pm [link] [6 comments]


Jersey City tree killers strike again

Forested swath between liberty harbor (Celebration type development) and the concrete plant: gone. The trees were mostly new growth trash trees and bushes sprung up over the last couple decades but they weren't hurting anybody. Bulldozed now. There's hardly a tree left in that vicinity, just acres of fake period townhouses.

Fuck these people.
- tom moody 5-11-2007 3:32 am [link] [8 comments]


Tim Bray just posted about an online survey he filled out for the Economist (which, btw, I've been reading lately too, for the first time, and I have to agree with Matt Yglesias' description of them as a mix of "interesting reporting and bizarre editorial judgment".) Anyway, one of the questions of the survey was, sort of strangely, What do you think is the Twentieth Century's most iconic piece of design; write in your answer and an explanation.

I've thought about this for about 1 minute so far and I'm not sure anyone can really answer. I thought of the original Volkswagon Beetle, but that seems like more of a contender for 2nd half of the 20th century design, so I'm still working on it.

Any takers?
- jim 5-09-2007 10:21 pm [link] [16 comments]


snake coughs up entire hippo
- steve 5-09-2007 8:40 am [link] [add a comment]


Best Meaning Worst Neighbor Depatrment

My friend lives, or used to anyway, in this building



- steve 5-09-2007 5:58 am [link] [1 comment]


lets move to ithaca

5/8/07 is Grateful Dead Day in Ithaca NY

Proclamation from the Mayor of the City of Ithaca

Whereas, the Grateful Dead have been recognized by many highly credible organizations, individuals and entities including the Rock & Roll Hall of Fame as significantly important and integral to the
musical and social fabric of our contemporary culture, and whereas, on May 8th, 1977 the Grateful Dead performed in Barton Hall on the campus of Cornell University in the city of Ithaca New York, a concert that is widely acknowledged and regarded as a defining and transcendent occasion and example of the art of contemporary musical improvisation, collaboration, musicianship, and performance, and whereas, many tens of thousands of individuals who were not in attendance that night in Barton Hall, have become knowledgeable & familiar with the extraordinary nature of the performance on May 8th 1977 through the trading and sharing of recordings of the show, and whereas, the cultural identity and perceptions of Ithaca as a community, have been informed and bolstered by the widespread acknowledgement of the magic of May 8th, 1977, and whereas, it has been said many times by many people that, "there is nothing like a Grateful Dead concert."

Now therefore, be it resolved that as Mayor of the City of Ithaca, and in heartfelt recognition of the thirtieth anniversary of the May 8th 1977 concert performance, I declare May 8th 2007 as Grateful Dead Day in the City of Ithaca.

Dark Star Orchestra will perform the set list of 5/8/77 on 5/8/07 at the State Theater of Ithaca NY.
- Skinny 5-09-2007 12:01 am [link] [3 comments]


that settles that! now lets never speak of this again! (for those unable to attend, this subject dominated the dinner conversation at jims birthday. this and the prophylactics of lactation. you really missed out if you could not manage your schedule properly, were having contractions (aka the master mistress cleanse?) or live in some ungodly country with provinces.)
- dave 5-04-2007 7:49 pm [link] [4 comments]


I'm still recovering from a May Day marathon in Prospect Park, not to mention a turn through Owl's Head in the neighborhood this morning, where it looked like a lot more birds were on the move than yesterday. To protect myself from the incredulous I got a new 12X image stabilized camera, which I am in the process of figuring out how to use. It's possible to capture images of small songbirds, if you can manage to focus on them. Here are a few for May…
- alex 5-03-2007 3:17 am [link] [11 comments]


Commentator, author and bird lover Julie Zickefoose provides an update on the birds of spring — and how they fared during an unseasonable cold snap a few weeks ago, when temperatures dropped to the 20s at night and 30s by day at her home in Whipple, Ohio.

Zickefoose was concerned that the migratory birds might not be able to find enough food during the cold spell.

But she tells Melissa Block that the birds stayed put down south — and followed the re-emerging leaves north. The birds are arriving now in one great front, albeit later than usual.

She discusses the many birds she has spotted and photographed in recent days, including the blue-winged warbler, and shares a sad story with a happy ending about a bluebird nest on her property.
For Sally McKay, a Branch of May, full of Cowbirds.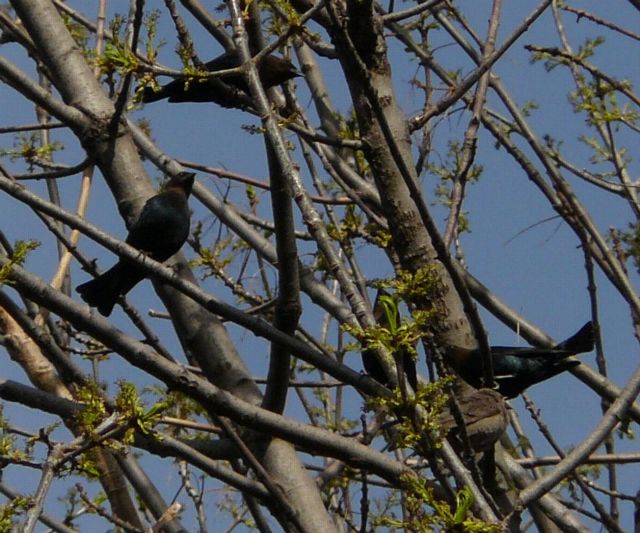 The New Orleans Jazz & Heritage Festival kicks off this weekend—good news from a city wracked by too much bad. Last year, the mounting of the event at its customary Mid-City Fair Grounds site was an inspiring triumph against odds. "Now, in a way, it's even harder," says festival producer Quint Davis, who has upped the ante for this year's event, packing its six days denser than last year, with stars ranging from Rod Stewart and Van Morrison to Gregg Stafford's Young Tuxedo Brass Band. "The euphoria of destruction has passed," he continues. "We're in the reality of the long-term recovery. None of this is going to get someone their check from the 'Road Home' program. None will rebuild their house or get their insurance straight. But it will do something important beyond all that."

Anyone in New Orleans will offer stern correction should you refer to Katrina as a natural disaster: Plenty of unnatural barriers and failures, a great many bureaucratic, are to blame beyond Mother Nature. And anyone involved in the city's culture will point out that new barriers, similarly unnatural, impede the city's ability to rebuild artistically as well as physically. You'd think that New Orleans would welcome back the communities and establishments that anchor its storied culture. But the message implicit in the post-Katrina skirmishes club owners, Mardi Gras Indians, and parade organizers have experienced with city officials is, "We don't want you back." Or at the very least, "We're not going to make it easy."
"There was a guerrilla documentation made of the Orange County phenomenon usually refereed to as "the Disneyland Locals". The video documentation started in 1995 as an alternative to the afterschool task of filming skate videos. Now over 10 years later over 100 hours of video (Hi-8) shot at the park between 1995 and 1997 serve as a glimpse into a piece of Southern California history overlooked by mainstream media but never forgotten by the Generation who experienced it. It always seems pretty hard to explain this to someone who wasn't there during this time period but everyone who was anyone used to hang out in the old broken down tomorrowland. Sort of like the zephyr surfers who would surf at the brokendown theme park "POP" in dogtown z boys. To hang out in tomorrowland you had to have an annual pass that would grant you admission for most if not all days of the year (depending on how fancy your pass was passes were gernerally $100-$200). Most of the people who would hang out in Disneyland grew up going to the park during their childhood in Orange County and to find this as the main hangout as teeagers was very unlikely. During the summer of 1996 security guards started revoking the passes from teens who would hang around most often siteing it as "loitering". There were a number of ways a Disneyland security guard could justify revoking your pass but most popular were "loitering" and using "illegal dance moves" on the tomorrowland dancefloor basically no touching the ground with your hands but pretty much any dance move they didnt agree with. At this point it was already to late to take away passes, the secret was out everyone knew the park like the back of their hands by now .As hundreds of passes were revoked in an attempt to put an end to Disneyland Local culture the locals would comically sneak right back in. As you can imagine the inapropriate clearence of Disneyland locals was sharply responded to by the angery teenagers....and that is when things really started to get interesting. This was the time period when the Disneyland Locals returned the lack of respect and took it out on the park...this would be anything from sneaking in a high volume of people through the re entry with used handstamps Transfered by a wide range of materials and damaging park property to getting off on the rides and re-arranging the puppets into differnt locations (ussually on "its a small world") and other restricted behaviours some more innocent than others. Mostly weak things that teenagers would think funny but still good for a laugh. You can mark the the removal of the peoplemover (the main make out point for all teeagers) as the start of the decline in the "Local Culture". As the groups grew there were Territorial spots that would sometimes move form one side of Tomorrowland to another like a pack of Gypsies. The most well known rivalry between The straight edge groups and the teen smokers would have confrontations often resulting in countless kids getting Maced. The renovation of a new more name fitting Tomorrowland came in 1997 at this time the thousands upon thousands of kids who had set up after school and summertime residency at tomorrowland rapidly declined until it completely seized to exist. Now you can walk through the new highly different tomorrowland as if these moments never happened. Enjoy a look into the past at www.youtube.com/profile?user=disneylandvideos where videos will be added as they are edited since myspace video sucks." [via supercentral and mbs]