tom moody
---
View current page
4 matchs for x-eleven:
---
Too Much Failure Around Here
Inspired by Gary Wicker's tribute to his "failed" old school techno group
x-eleven
, Paul Slocum of
Tree Wave
pulled out his tapes of techno music he made in the '90s and posted some tracks
here
. The following excerpt from "v tide" is one of my favorite bits from the page: [mp3 removed]. Slocum thinks it's "standard minimal house" but not everyone can make a good track. I give it an "A" for the vocal physics (minced Diana Ross) and the organ stab that kind of drops out in the middle like a sampler memory error even though it probably isn't. This is pretty sublime music, and people need to stop talking about stuff being failed. Slightly off topic,
Chris Ashley
recently shrank a perfectly good, Stephen Westfall-ish HTML drawing with non-contiguous linear elements because he said it was failed and that's just ridiculous. Below: one of Ashley's HTML compositions installed in a virtual gallery.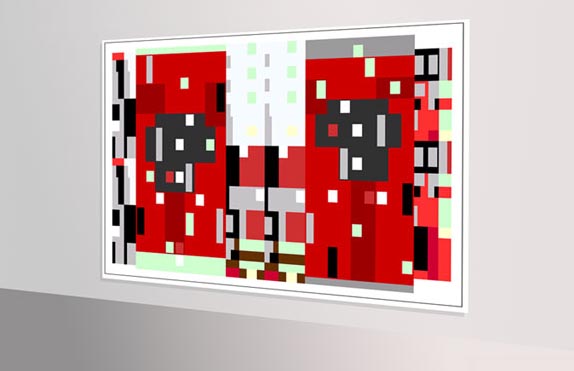 ---
Regarding the '90s pieces I just posted, Paul asks if
x-eleven
, the old school Dallas techno outfit that recently put its entire catalog up on the Net, got me inspired to go through my older work. The answer is not directly, I usually put up older things when I stumble across them looking for something else and they jibe with whatever I'm thinking about now, or possibly because they have nothing to do with that. I consider any painted pieces to be hopelessly retrograde and superseded and if I post them it's because I'm, well, let's just say proud of them for the time I made them.
A show recently opened in Brooklyn called
"Decipher: Hand Painted Digital"
that my work was considered for and...I don't know if rejected is the right word because the curator said all the artists had to live or have studios in Brooklyn. Oy. He added that subheading "hand painted digital" after the time of our discussions and I gotta say it's a bit unfair to the artists in the show who abandoned the security blanket of paint to
paint in a new medium
. Many of the included painters do use the computer in one or more steps of their work--to generate imagery, photo-process, possibly check out color combinations, I don't know--but there's nothing particularly "cyber" on the face of it. At its worst, "hand painted digital" suggests a painter trying to stay current or "hep" by painting digital, or digital-looking imagery, in his or her old style.
Back to x-eleven: I consider it to be J. S. Bach, not a period piece, though some of the technology and much of the motivation (make cool music for a rave, expand minds, get out of Arlington, TX) no longer exists per se. I'm just amazed by how complex and intense it is, and I suppose I mentally subtract out anything cheesy or dated. I do that with a lot of prog rock as well.
---
Old School Techno from Dallas, Part 2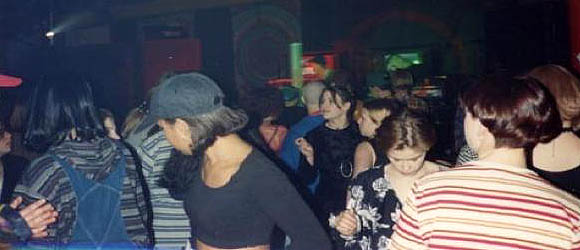 Ravestock '94, Dallas.
That is seriously a lot of stripes. And girls.
x-eleven "Ecstasy" 1992 [mp3 removed]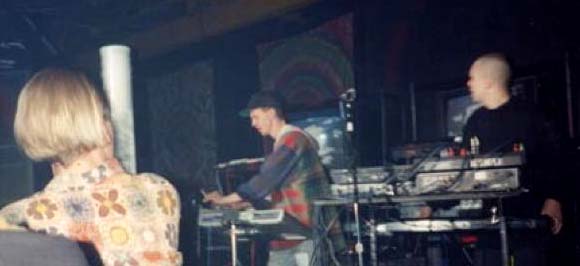 Previous post on x-eleven is
here
. Since it was written, Gary Wicker has
put up some more tracks,
including "Ecstasy," the one highlighted above. Not sure where it's going at first, the sampled "ooh" sounds silly, but at the 90 second mark it grabs your attention, and at 120 seconds, when the Larry Heard-ish house part with the synth-flute kicks in and those "oohs" become joyful, stuttering vocal science, it really takes off. Some of the appeal is rooted in time travel but this is among the happiest music you'll hear, and Wicker feeds the retrograde desire to hear lots of arpeggios played at high speed. Haven't checked out Todd Hixon's videos yet, also from the vault, but will--just wanted to get this track up. It's weird, I'm nostalgic for a scene I never participated in, except in my studio listening to these tunes on the radio. I moved to NY the next year and found drum and bass everywhere--right about the time Wicker sold his gear and stopped making x-eleven tracks. "Ecstasy" is earlier--'92.
Update, December 2014:
The X-Eleven links above are dead but the group has a page on
bandcamp
.
---

Music-and-video outfit x-eleven burned brightly in the Dallas rave scene from 1992-1995, with frequent radio play on Jeff K's Edge Club program, inclusion in the Tales From the Edge CD series ("Texas Techno" installment), and appearances at major rave events. Their fast, scintillating techno tracks never quite gelled into a CD's worth of material, at least for perfectionist Gary Wicker, who wrote and performed the music. Strong nods to prog-rock and the industrial canon distinguish it from more purist or jazzy Detroit-style techno; Wicker mentions 808 State as an inspiration but I'd say Orbital if I had to compare it to anything. Wicker's amphetamine-fueled contrapuntal keyboards are in many ways the opposite of acid-house minimalism; one could envision a caped Rick Wakeman playing some of these baroque riffs, accompanied with grooving dance-floor bass and slightly incongruous party-hearty samples of kids saying "C'mon!" and "Let's do it!" The music doesn't quite fit into the Simon Reynolds standard techno timeline: it's an intriguing side-stream to what was happening further north and across the pond.

In '96 Wicker sold all his equipment and never looked back at his musical career, at least until last year, when he put the entire x-eleven catalog online, with assiduously detailed commentary, in what he calls "a sort of paean to the spirit of failure." The site has literary as well as musical interest, with Wicker narrating his own short career in the reflective tones of a sociological case study--a bemused audio-linguistic meditation on artistic aspirations and the messy realities of a being a group navigating the world of public performance and recording. (Personally I think he is seduced to this day by the capitalist paradigm that confuses business failure with creative failure--the latter this is definitely not.) With the reckless generosity of a recovering musician (who says he's still working, but not in this style), Wicker invites you to "download [all the x-eleven tracks as] .mp3 files, load them into your iPods, burn them onto CDs, do with them as you will." While you're listening you can read his fact-crammed commentary, a veritable how-to of basement keyboard and drum techniques. See, for example, this blurb for the 1992 track "Through the Ether":
This track opens with a filter-sweeped OB-8 sixteenth-note figure and a basic four-on-the-floor beat. Shortly thereafter, the members of Yes are digitally tricked into playing a portion of their biggest hit backwards, then forwards, then backwards again by a crafty ASR10M. Not content to humble just one great prog-rock act, the ASR10M then corners Robert Fripp's guitar, lassoes it and forces it to play a strangely happy melody that would be right at home amongst the talking mushrooms in an episode of "H.R. Pufnstuf." A bouncy CZ10M mallet part (inspired by Absolut's "X Ray My Love") soon takes over lead duty as most of the rhythm track drops away, leaving only a TR909 bass drum whose dotted-sixteenth triplet pattern indicates that it's caught a case of the giggles. A jazz drum loop soon joins in the fun, followed a few bars later by the rest of the drums and a stereo-phased ESQ-1 white noise bit. A tight snare drum roll announces the return of Fripp's regal-sounding looped guitar, and a confused Matrix 6R, still playing the theme from "Past Passion," wanders in from the next room. The mallet part eventually returns, accompanied by ascending arpeggios from the Matrix 6R and some stereo delay trickery, and we're soon back in Sid & Marty Krofft territory. The six-note "Past Passion" theme makes another final appearance before the track draws to a close.
Other standout tracks on the site include "Burn it Up" and "Past Passion," but they're all worth a listen. It's the apotheosis of geeky keyboard tech--geeky but cool, at least in my biased opinion as a fan who until recently had only a few nuggets but just found the mother lode.
Update, December 2014:
The X-Eleven links above are dead but the group has a page on
bandcamp
.