tom moody
---
View current page
...more recent posts
---
Our tax dollars at work: in case you didn't hear, Ahmad Chalabi has been named oil minister in Iraq's shaky, US-propped-up government. They say it's "interim"--yeah, right. This sleazy con man, the Administration's pet Iraqi exile during the Saddam years, provided much of the fake weapons of mass destruction "intel" that dragged us into war in his country. He is a fugitive from justice in Jordan after embezzling millions from a bank there, and has been accused of passing classified information to the Iranians. Iraqi ministers get to hand out patronage positions, so he'll soon be surrounding himself with cronies and hobknobbing with US oil companies, as he prepares to rob his countrymen blind of their biggest material asset. It's sickening the US has aided this creature in his climb to power, with tax money and the lives of so many soldiers.
---
Jack Masters responds on his blog to the following
mildly sniping paragraph
posted here a few days ago:
The castlezzt.net guy has a blog now. He's posting under the name "Jack Masters." Interesting pictures, funny/surreal descriptions of dreams, wry philosophical musings, including thoughts on Excel charts that make me suspect a connection to the IT industry (who else would care about Excel?). He's been updating castlezzt, too, and I guess it was inevitable given the cost of bandwidth that "the mile long web page" has been broken into multiple pages.
Masters'
reply
, accompanied by this great Pokey the Penguin drawing (thanks, anonymous):


My bandwidth is fine, it's just that it was getting to be quite an ordeal to load the page.

Actually I have no connection to the IT industry at all, I just use excel to record ideas. It has certain advantages over a simple text file, because you can easily rearrange things, or even have the computer alphabetize or randomize them. My notes tend to take the form of lists anyway.

In the screenshot that accompanied the excel post, I was using it to map out the edge permutations of a blank jigsaw puzzle I was working on. I've also used it as a poor man's cellular automata, and various other things.
Sorry, man. I was doing some heavy interpolating (and projecting).
---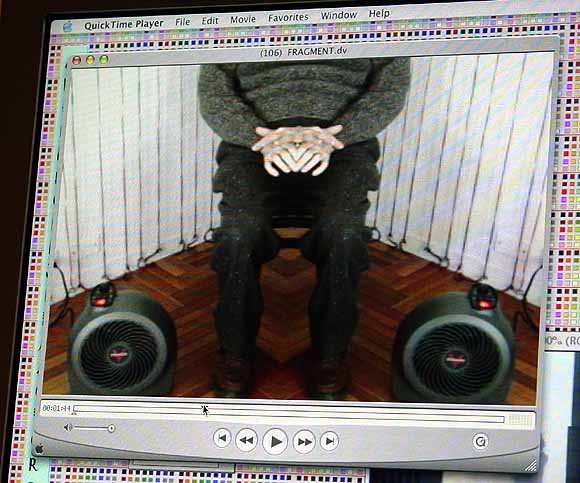 Top:
Lucas Samaras. A couple dozen brand spankin' new Apple flat screen monitors are arrayed on tables inside PaceWildenstein, as in a classroom or library. From a central server one can call up hundreds of photo stills or Quicktime videos by the artist, documenting his strange solitary existence inside a luxury high rise garret in Manhattan. A handful of elementary Photoshop filters are employed to psychedelify mundane actions such as blowdrying his hair and beard, watching TV by himself on New Year's Eve, recording sunsets and Macy's Thanksgiving floats. Kind of poignant, all this, and occasionally stunning despite the familiarity of the effects.
Below:
Walter Redinger of London, Ontario, who shares Mitchell Algus' gallery with Banks Violette this month. The sculptures below are the artist's trademark fiberglas resin, suggesting Yves Tanguy by way of the Star Trek props department, or Max Ernst with a plague of boils--and I mean all that in a good way. Very strange, excellent sculptures. A bit more on Redinger
here
.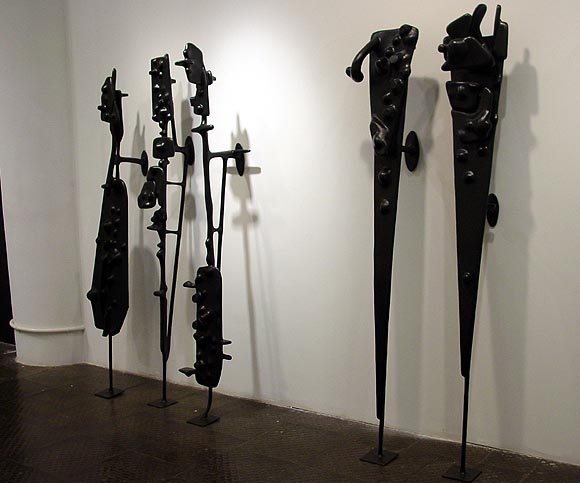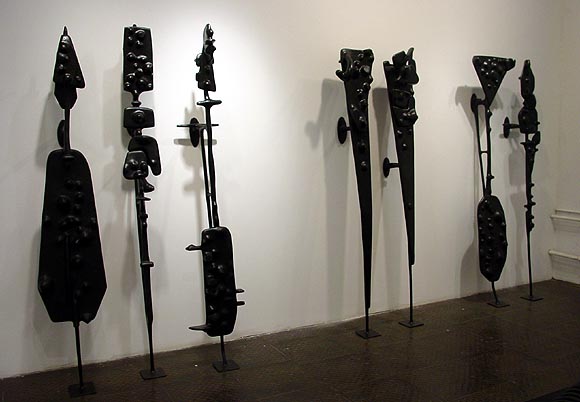 ---
Eyebeam has organized a contest on the theme of
contagious media
, the idea being to come up with a meme (project, hoax, web page, joke) that gets you the most hits within a certain period of time. This occupies an awkward zone between social sculpture (art), public relations (not art), new media art, and web-development-as-usual. Participants in the workshops include Nick Denton of Gawker media, who didn't wait to see how the unruly and amorphous new form of expression called "blogging" would evolve but rather led the charge in turning it into something streamlined and branded a la the late 90s dot com model. Blogs under the Gawker umbrella are much like the one you're reading except they have nicer logos and blinking ads interspersed with the copy. They do get hits though. This page has had a couple of mentions on a site called
Screenhead
(thanks, mon) and both times stats spiked big time.
Speaking of stats, mine are great, thanks. Numbers aren't crowed about here like they frequently are at Josh Marshall's blog but let's just say they're very encouraging and I appreciate everyone who reads. One of the discussions I had early on with fellow bloggers at Digital Media Tree (a collective that is the brainchild of tech whiz Jim Bassett) is that blogging isn't like dot coms because it isn't about number of eyeballs but
quality
of eyeballs. "Paradigms (memes, whatever) grow around communities of strong interest" is another way of saying it. Well, maybe they do, maybe they don't--you never know what's going to be important in the long or short run. But a perverse thing about the Internet is too much success can destroy the effort before it begins: bandwidth costs money, and more traffic makes blogging more expensive. To accommodate the traffic you have to upgrade and put up ads or a tip jar to keep going.
It can be exhilirating to have a contagious project take off, but recent history teaches us the party's quickly over and you're left picking up your guests' cigarette butts. The only solutions to the problem of the hit meme are to embrace capitalism, quit while you're ahead, or be like the characters in Kurt Vonnegut's short story "Harrison Bergeron," who wear prosthetic devices that blunt their natural talents (thick eyeglasses for painters, heavy ankle weights for ballerinas) so they're perpetually good but not too good.
And when it's all said, what did "Turkish Man Kiss You" and "America We Stand As One" really contribute to the discourse? Is their "success" as ironic artifacts something that could, or should, be deliberately contrived?
Updated slightly to accommodate a good point from someone who seemed mildy surprised that these things get updated/rewritten after they're posted (let me know if you want credit for the thought in the last sentence). The rule of thumb is if the post changes substantively I do an "update," otherwise it's just sub-Orwellian tweaks.
---
Music Diary (some blabbery first-person musings previously posted were boiled down to the following):
The advantages of software synthesizers are being able to jettison gear and "stuff," use the biggest possible graphic interface to design music more visually, and access new sound making tools as they are developed via the Net, as opposed to just downloading samples. The key to using so-called native instruments is to have your eyes open about their agendas and limitations and if the music is going to sound "off the shelf," try to put brackets around it so people know what you're doing, even if they don't know what you're doing. As a result of being more
softsynthian
, won't the music produced around here sound increasingly like those bits of tuneful ambient e________a played between stories on NPR (assuming they still do that--it's been a while)? Yes, probably, but I'm at peace with that, I think.
By the way, the titular bleat in the "drum and bass" track "Little Shrieker" was a field recording of a woodchuck, distorted, slowed down, and played backward in Kontakt. I'm proud of that good bad noise, whatever anyone else thinks of it.
---
New York Times
columnist Maureen Dowd is frequently annoying when she does her too-clever pairings of the foibles of world figures ("Saddam was found hiding in a hole; Bush has one in his head..." WHATEVER). She's better when she just does straight criticism of an Administration that is demonstrably screwed up beyond all recognition. Like today:
Even if his suave statesmanship were not so perfectly suited to high-level diplomacy, [John] Bolton should still get the [UN] job. A ruthless ogre who tried to fire intelligence analysts who disagreed with his attempts to stretch the truth on foreign weapons programs deserves to be rewarded as other Bush officials have been.

After all, he was in sync with the approach of Condi Rice, Paul Wolfowitz, Stephen Hadley and Bob Joseph - who were all up for big jobs after they torqued up intelligence to fit the White House's theological beliefs.

Condi breezed into the secretary of state job, even after she helped Dick Cheney gin up the Iraq war, ignoring reports debunking the notion of Iraqi nuclear tubes, and even after she told Congress she'd shrugged at the Aug. 6, 2001, presidential daily brief headlined "Bin Laden Determined to Attack Inside the United States."

Mr. Wolfowitz was eager to sell the war, ignoring predictions of insurgency and possible civil war. So he and Donald Rumsfeld left our troops so stretched and vulnerable that they were reduced to using cardboard cutouts to stand sentry, and to jury-rigging Humvees that had not been properly armored, resulting in many lost limbs and lives.

So Mr. Wolfowitz now has the prestigious job of World Bank president.

George Tenet presided over the two biggest intelligence failures in modern history. He slam-dunked a Medal of Freedom out of them.
Our fellow Americans, who so trustingly voted this Administration back in six months ago, are wising up, it seems. According to a
recent Gallup poll
, 50% of us now admit Bush actively lied about Iraq WMD. Whether we give a crap is another issue, but that's an encouraging statistic. Obviously the number would be much higher if Wolf Blitzer, et al, hadn't also lied. They knew all that WMD talk was a crock--any smart person did--but they just wanted to see things blow up good on their teevee programs.
---
Jerry Saltz has a piece on
artnet
about the Artforum online diary. I looked at that journal, mostly chronicling who went to what opening after-party, a couple of times, got a creeped-out feeling and didn't go back. I understand the art world is suffering the influx of "Bush millionaires" who are chasing increasingly younger artists, but I'm removed from that process, in the sense that I'm not really a working critic these days who has to follow the nuances professionally, the way Saltz does. I'm confident the whole schmear will implode soon enough. I can relate to Saltz's story about giving a crit to the kid who'd just been picked up by a gallery, though, mainly as a viewer: I can tick off many reasons why I don't think, say, Julie Mehretu's work is "there" yet* but she's already been canonized by the gallery process--to the extent of having million-dollar lawsuits over the value of her art! This is real tulip mania stuff and I just can't get too concerned about it.
Jesse mentioned the Saltz article in connection with my
rant
about the "slow dimension" and the art world's stubborn refusal to get the internet. An alternative model for art production and critique will likely continue to grow in cyberspace while the art world bogs down in stuff that doesn't matter. The problem with the AF diary is it doesn't address ideas--it uses a kind of fake blog format to chronicle the personalities and flow of money, which is mildly interesting, but sort of a waste of a good medium. It's going to take a generation dying off before real substantive change occurs in the way art is made and consumed.
*Pointlessly busy, doesn't know what to leave out yet, murky content (is it really ethnic/political or is that all in the press release?), derivative of Matthew Ritchie, etc. etc...
---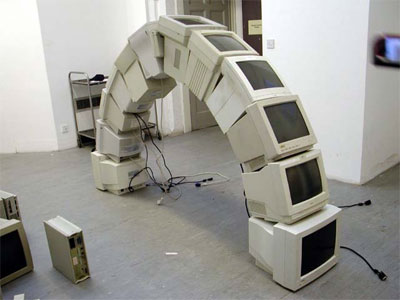 The
castlezzt.net guy
has a
blog
now. He's posting under the name "Jack Masters." Interesting pictures, funny/surreal descriptions of dreams, wry philosophical musings, including thoughts on Excel charts that make me suspect a connection to the IT industry (who else would care about Excel?). He's been updating
castlezzt
, too, and I guess it was inevitable given the cost of bandwidth that "the mile long web page" has been broken into multiple pages.
Update: Jim says the computer monitor arch appeared on Gizmodo and has been making the rounds. They didn't credit it either. The image below is also good, no idea where he (Masters) got it: