tom moody
---
View current page
11 matchs for vvork:
---
Rhizome.org 2007-2008 Commissions* Considered as XYZ Art
"once a process (i like to say algorithm) Y is set up, you can mess about trying to figure out what X you can put in to get what Z, and then what's the best Z, and then what X will give it to you..." (Paul B. Davis on the XYZ tendency in computercentric art). That tendency crosses over from the digital/new media realm (Rhizome) to by-the-numbers conceptual art in the gallery world (VVork). Common features are a distinct grammar of subject-verb-object and a noble or socially useful goal. It is especially prevalent in tech art, which tends to mimic the scientific method's successful means of getting results. Once the "experiment" is performed, voila, Art.
1.) AddArt Member Selection
by Steve Lambert with Evan Harper
AddArt is a Firefox extension
(Y)
which replaces advertising images on web pages
(X)
with art images from a curated database
(Z)
.
2.) Ebay-Generator
by Ubermorgen.com (Alessandro Ludovico and Paolo Cirio)
Ebay-Generator
(Y)
will generate songs
(Z)
based on the public data mined from Ebay sellers and buyers
(X)
. Users' rating, sold objects, times and frequency of transactions and other data will be automatically transformed into a structured text, which a supercollider-application will use to generate music and lyrics.
3.) ShiftSpace - An OpenSource Layer Above Any Website
by Dan Phiffer and Mushon Zer-Aviv
While the Internet's design is widely understood to be open and distributed, control over how users interact online has given us largely centralized and closed systems. ShiftSpace is an Open Source platform
(Y)
that attempts to subvert this trend by providing a new public space on the web. By pressing the [Shift] + [Space] keys, a ShiftSpace user can invoke a new meta layer
(Z)
above any web page
(X)
to browse and create additional interpretations, contextualizations and interventions using various authoring tools.
4.) The Wrench
by Knifeandfork (Sue Huang and Brian House)
The Wrench will recast Primo Levi's The Monkey's Wrench
(X)
into a mobile phone text-message exchange between participants and an artificially-intelligent agent
(Z)
. Taking place over the course of a week, the dialogue is not pre-determined; it employs Knifeandfork's nonlinear narrative software engine
(Y)
. The system is intended to present a convincingly human agent within a realtime plot progression. The AI will have specific, dynamic narrative goals for each interaction, designed to intertwine the lives of the character and participant through the ubiquitous yet restrictive communication channel of text-messaging.
5.) zHarmony Member Selection
by conglomco.org (Tyler Jacobsen & Kim Schnaubert)
zHarmony is an addition
(Y)
to Rhizome that will combine the Compatibility Matching System of online relationship services like eHarmony with Rhizome's existing database of artists
(X)
. zHarmony will produce a unique artist profiling system that can automatically match artists with like-minded collaborators (or groups of collaborators) based on multiple points of compatibility
(Z)
.
Borderline XYZ projects:
6.) Eavesdropping
by Jack Stockholm
Eavesdropping is a networked audio system
(Y)
designed for guerilla performance
(Z)
to raise awareness of our ambient communication in public spaces
(X)
. This project highlights the intentionality and exhibitionism of bringing our private actions into the public sphere.
7.) VF, Virta-Flaneurazine-SL, Proposal for Clinical Study Member Selection
by Will Pappenheimer and John Freeman
Virta-Flaneurazine-SL is a potent programmable "mood changing" drug
(Y)
for Second Life (SL). A member of the "Wanderment" family of psychotropic drugs; when ingested it automatically causes the bearer
(X)
to aimlessly roam the distant lands of SL for up to a full day. As the prograchemistry takes effect, users find themselves erratically teleporting to random locations, behaving strangely, seeing digephemera and moving in circuitous paths
(Z)
. Many users report the experience allows them to see SL freed from its limitations as a fast growing grid of investment properties.
Non XYZ projects:
8.) Phrenology
by Melanie Crean with Chris Sugrue and Paul Geluso
Phrenology will investigate the perception of space, whether real, virtual or imagined, though writings created by incarcerated women in a workshop the artist will teach at Bedford Hills Correctional Facility. The piece will consist of a series of 360 degree photographic panoramas that interconnect through text included in the environments. Viewers will be able to move through the different environments to read the women's writing in a form of spatial poem, accompanied by an experimental sound track based on the text.
[a possible (Y) might be the traditional interpretative function of the artist but that doesn't count as an "algorithm"--the use of prison texts is a typical (X)]
9.) Jellotime.com
by Rafael Rozendaal
JelloTime.com will be a website with a single flash animation. You will see a green plate with a red Jello dessert. When you touch the jelly with your mouse, it "wobbles." It will shake and make a strange sound, the more you pull it, the more it will shake. I really want to emulate the feeling of jelly, something between solid and liquid. A feeling that is very familiar in real life that might seem strange on a computer screen.
[not XYZ. more like just (X)]
10.) Remote Instructions
by Lee Walton
Remote Instructions is a web-central project that will utilize both the communication capabilities of the web and spectatorship of its users. From a central hub, Lee Walton will collaborate with strangers globally via the web and orchestrate a series of video performances that will take place in real cities, neighborhoods, villages and towns around the world. A Remote Instructions website will be created to host video projects and promote networking among collaborators.
[too complicated to be XYZ. sounds like a lot of work, and the only person with the big picture view will be the artist]
11.) Second Life Dumpster
by eteam
In Second Life each avatar has a trash folder. Items that get deleted end up in that folder by default. The trash folder has to get emptied as often as possible, otherwise the avatars performance might diminish. But, where do deleted things end up? What are those things? Second Life Dumpster will explore these questions by starting and maintaining a public dumpster in Second Life for the duration of one year.
[this is not XYZ because it is open-ended and asks questions without knowing what the answers are. it is the second of two commissions involving Second Life, the "Active Worlds of the '00s"]
Update, 2011:
The Rhizome link has been changed to
http://rhizome.org/editorial/2007/jun/15/rhizome-2007-08-commissions-announcement/
. Please note these are
elsewhere called
the 2008-2009 Commissions.
---
Some excellent clone-hunting going on at
VVork
: stacks of audio loudspeakers (
1
,
2
,
3
,
4
,
5
) and stacks of books (
1
,
2
,
3
,
4
,
5
) by artists. A while back it was "neon week."
"I feel that my stack of loudspeakers is more profound than yours because..."
---
VVork and XYZ Art
What follows are some comments from a
thread
about the blog
VVork
. The commenters are sort of picking on that blog, including me, but there are defenses of it as well. To the extent problems are being identified with a certain type of conceptual art and a certain type of digital art related to it (particularly as represented on the Internet), VVork is a convenient focal point. I've made all the commenters anonymous since this was a casual discussion and people might not have intended for these remarks to be elevated to "formal" status--the identities are all in the thread, I just want to get at the essence of the discussion. Slightly edited--if any commenter wants to amend what's said here let me know.
* VVork makes 'clever' very unappealing, like some disease that art catches when it gets on the Internet... It's usually: "hey, i did X to Y and now it's Z...get it??!" [T]he perfect example ... is that piece where its a choir singing the NASDAQ stock exchange graph as music... Who cares? Is there anything interesting going on beyond the punchline? (..well, perhaps in the larger context of the artist's other work [which we aren't made aware of]?) VVork's format/context is ideal for one punchline after the other.. It's like Boing Boing for conceptual art. Boing Boing is to real life what VVork is to art.. But why reduce others' art into little nuggets that can be easily thrown around and reblogged and put into other random contexts on the net just like any other Internet garbage (i.e. YouTube vids of cats and sloths)??

* VVork is popular because they show lots and lots of pictures of art from around the world without a bunch of commentary. I love that! It's kind of weird how rare it is. But the structure implies a promise it can't fulfill. Unlike, say, magazine editors, bloggers have neither the resources nor the mandate to represent outside of their own cultural constructs. I think the feeling of sickness comes from the fact that we feel like we are seeing some kind of general trend, but really its just some dudes posting pictures. There are masses and masses of other art options, not to VVork's taste, crowding in the wings. If they wrote on the work, the subjective filter would become explicit, but the unique aspect of the site would be gone. If they took submissions it might get closer to an evolutionary model, but without an editorial mandate it would make no significant difference. Maybe a post-your-own art wiki would do it.

* VVork is provincial in the sense that it conveys the impression, through its sheer relentlessness, that anybody in the world can be a player as long as you're making [the type of work we're discussing]. Getting seen on VVork [might be] an alternative to "moving to New York" (which people still do, in large numbers, sorry) but everything starts looking the same because of the lack of criticality within the vehicle itself. It's a blog, as you say, not the Global Museum of Great Art. Just because they are popular does not mean they are an institution that has a responsibility to anyone. As bloggers we are free to put in our two cents about their program and they are free to listen or not as they see fit.

* Seems to be two thingies going on here, one is vvork's presentation ... the other is the.. "X - Y - Z" style of archetype vvork art. the XYZ thing is, to me, natural to computers...the data comes in, who cares from where/as what, you can do something to it, and then the data goes out - also who cares to where/as what. so you wanna take stock market info [x] and turn it [y] into music [z], or you wanna use your atari joystick [x] to change the color and placement of text [y] on a tv screen [z] or you wanna take your whatever "physical computing" sensor interface [x] and use it to turn [y] lights on an off on a building [z]...it's like every single piece ends up being just an iteration of the same translation exercise. i suppose im describing something as much NYU ITP/MIT style art as vvork art, but regardless it's one of the reasons why i don't pay much attention to any of it...and i dont make that stuff [or any interactive art] cos i dont wanna to get stuck using the rest of my life in an attempt to make the "best" XYZ.
---
Faux-Modernist Sculptures from Random Plastiform Dripping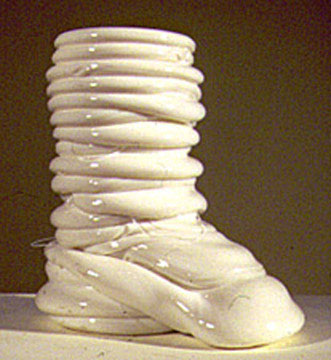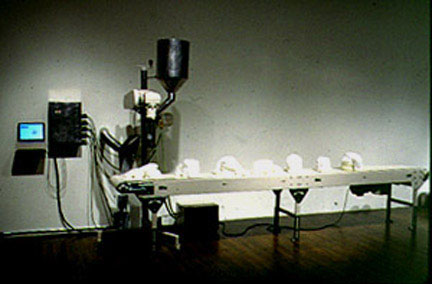 Roxy Paine
,
SCUMAK (Auto Sculpture Maker),
1999 (hairy jpegs from gallery website)

Albin Karlsson
, 2007 (?): "A machine in the roof rotates with a speed of one revolution per hour. Every minute it let one gram of hotglue drop down on the floor.During time a sculpture takes form." [via
VVork
]
---
More
VVork
.
Sally McKay's
comment about the blog's specialty--"elegant sculptural installations crafted well from non-precious materials with interesting but tidy content and an unquestioning relationship to art institutions," pretty much nails it. She says she loves/hates the site and that's what I've been saying but the unceasing tide of conceptual projects is starting to get painful. It's depressing because you see artists trying so hard, all over the world, to make their conceptualist schtick--based mostly on '70s premises but with a digital gloss--projects that document well and photograph well and might catch the eye of a curator (or omnibus art blog)--and when you show them all together like this it starts to look like a disease. Please, make it stop (or vary it with some videos of cats and sloths from YouTube)!
Update: The comment thread is now closed (to all but steve, who has magic powers) but worth a read, thanks to all who contributed, will try to synopsize some of what was said for a later post--the topic is bigger than just picking on VVork and gets into by-the-numbers conceptualism and its relation to computer workflow.
---
Dataisnature
, April 9:
Sol LeWitt died yesterday. If you have had your eye on Dataisnature for a while, you will have heard his name mentioned a lot on these pages. Just after time of the 'heroic' gestures of Abstract Expression Lewitt conceived of a new language utilising simple impersonal forms in repetition and modulation, often drawing directly onto the wall. The fact that these Conceptual drawings were designed to be painted over solidified Lewittís claims that the 'idea behind the work supersedes the work itself' and that 'The idea becomes the machine that makes the art.' Prophetically for our times Lewitt also said that "Ideas cannot be owned. They belong to whomever understands them."

The works are conceptual and aesthetically pleasing at the same time and Lewittís path eventually lead him to writing instructions for making a piece of art. These instructions meant that his works could be recreated anywhere and more importantly it represented a shift in 'artistic authority' from a centralised model to a distributed one. The idea of 'instruction based art' was incredibly forward thinking when we consider the contemporary practices of digital generative artists and their use of code and algorithms to make 'pictures.' More so the concepts and philosophies dealing with ownership have never been more relevant.
This is a nice tribute and a good explanation of LeWitt's importance. Yet the early
sentences on conceptual art
were better than the somewhat boring process-based line drawings that resulted from them and those line drawings were better than the later, somewhat tacky ink wash drawings that became permanent fixtures of museums after LeWitt's canonization. Would that it were true that many works were "designed to be painted over." Also, I believe many artists using computers misunderstand LeWitt's relevance to them. The key sentences for me are the first ones:
1. Conceptual artists are mystics rather than rationalists. They leap to conclusions that logic cannot reach. 2. Rational judgements repeat rational judgements. 3. Irrational judgements lead to new experience. 4. Formal art is essentially rational. 5. Irrational thoughts should be followed absolutely and logically.
As
Rosalind Krauss
interpreted LeWitt,
the experience of the work goes exactly counter to 'the look of thought,' [which critics such as Donald Kuspit and Suzi Gablik were claiming for it] particularly if thought is understood as classical expressions of logic. For such expressions, whether diagramatic or symbolic, are precisely about the capacity to abbreviate, to adumbrate, to condense, to be able to imply an expansion with only the first two or three terms, to cover vast arithmetic spaces with a few ellipsis points, to use, in short, the notion of et cetera.

[....]

In Variations of Incomplete Open Cubes....what we find is the "system" of compulsion, of the obsessive's unwavering ritual, with its precision, its neatness, its finicky exactitude, covering over an abyss of irrationality.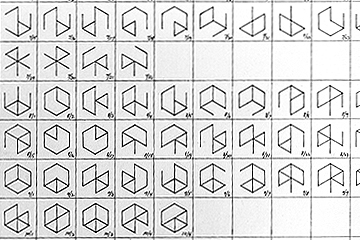 Krauss compared the "Open Cubes" to the activities of an obsessive-compulsive in a Beckett novel who had an elaborate system for moving "sucking stones" between various pockets and his mouth (see
earlier discussion
re: Manfred Mohr). Yet many digital artists still fetishize logic and "the look of thought" with artworks based on data analysis and modeling, even more egregiously when the art purports to highlight or "solve" some social condition. (See generally
VVork
.) LeWitt is not really for them, only a recuperated idea of LeWitt.
---
Attack of the Clones, Part 5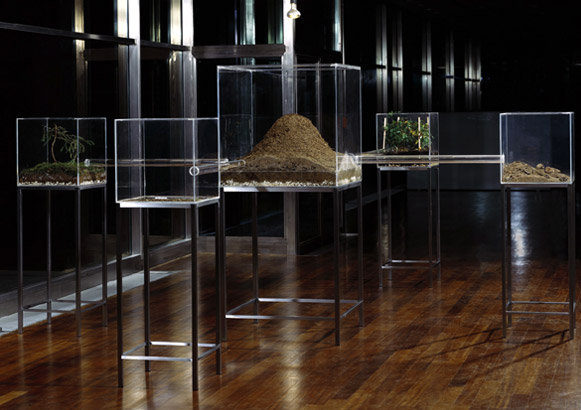 Klaus Mosettig (born 1975),
Processual Minimalism
, 2006, a colony of forest ants constructing a hill. (via
VVork
)
From
The Lives of a Cell,
by Lewis Thomas, 1974:
A gallery in New York exhibited a collection of 2 million live army ants, on loan from Central America, in a one-colony show entitled "Patterns and Structures." They were displayed on sand in a huge square bin, walled by plastic sides...
[...]
I learned that the army ants had all died.
[...]
There was no explanation, beyond the rumored, unproved possibility of cold drafts in the gallery over the weekend. Monday they were moving sluggishly, with less precision, dully. Then, the death began, affecting first one part and then another, and within a day all 2 million were dead...
[...]
It is a melancholy parable. I am unsure of the meaning, but I do think it has something to do with all that plastic--that, and the distance from the earth.
Previous clones
---
Attack of the Clones, Part 4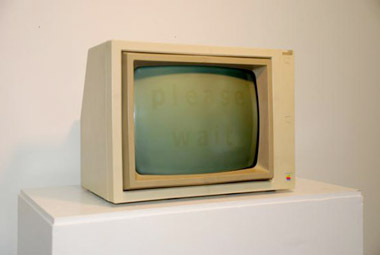 Steven Read,
Please Wait,
2005 (via
VVork
)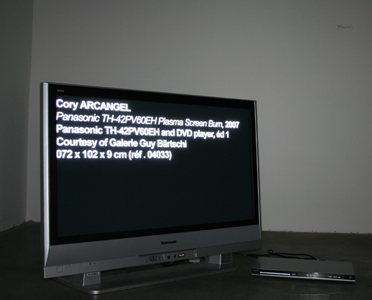 Cory Arcangelís
Panasonic TH42PV60EH Plasma Screen Burn
, 2007 (also via
VVork
)
Bonus: Nominee for Worst Theoretical Justification for an Artwork in 2007
from
T.Whid
:
Arcangelís "Panasonic TH42PV60EH Plasma Screen Burn" is brash and bold, it says "fuck you, Iím fucking up this expensive piece of equipment. Why? Because Iím motherfucking Cory Arcangel thatís why!" Steven Read's piece is nitpicky and fussy. His piece says ďlook! I wrote a program to destroy an obsolete piece of hardware. Why? Because Iím a geek." Arcangelís piece is about fucking with consumer dreams. Read's piece is aboutÖ time and phosphors?
I would personally like to see Arcangel going back to destroying obsolete pieces of hardware instead of acting like a jaded rock star. I know some artists who could do some cool things with that plasma screen. (Also, we're taking it on faith that the screen is actually destroyed--in any case, if the gallery sells it, it's contractually tied up as an expensive name plate, which is practically the same thing.)
Previous clone attacks
---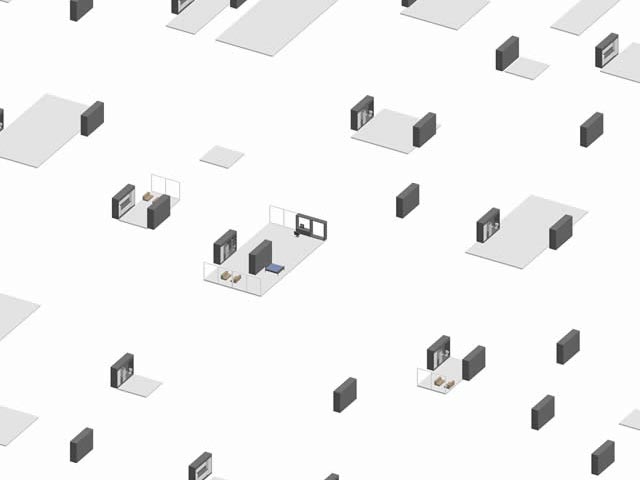 This image from a
stylish utopian architectural scheme
proposed in Sweden comes via the
VVork
site. It reads like satire:
Kymlinge was a research and consultation project on new ways of developing towns in Sweden. We proposed a model of simulated organic growth, in part inspired by strategy and RPG games: We would start by installing low cost raw "industrial" spaces that would attract young people with the ikea energy to fix them up. This demographic would start-up a new area of Stockholm, creating at first a solution to the housing problem, and leading into the area gradually becoming a "cool" destination inside the city.
The planned community (assuming this isn't a hoax) is essentially just a Levittown, Reston VA or Disney Celebration for these imaginary loft-living hipsters. Note that the words industrial and cool are in scare quotes. The equation of Ikea consumption and a counterculture is very slippery: the assumption is that if you give an energetic young person a non-traditional, urban, loft space, creativity and a happenin' scene will follow, but you can't always make the prisoners dance in their cells.
The computer designs are intriguing in a Donald Judd, Sol LeWitt open cube variation sense. I had an earlier version of this post up relating them to musical scores (mine, but never mind). The project appeals more as art than as social policy, which seems unnecessarily Skinnerian and manipulative.
---
Addendum to an
earlier post
: In addition to VVork Annotated, we also need the Anti-VVork. The latter consisting of art projects with no explanation, purpose, socially conscious rationale, tag line, or associated sound bite. It would be art not reducible to or reproducible as photography. It would be private jokes, arcane abstractions, and/or noise with no discernible or announced organizing system. It would be bad art, failed art, non-art (i.e. found things with no original purpose as art), and "embarrassing" art (i.e., too personal, too self-revelatory, too unhip or "square"). It would be expressionistic as opposed to ironic, not the faux expressionism of the current New York painting world but some kind of atavistic, unassimilable emotion. Just trying to think of everything VVork is not. More items will possibly be added.
---
The
VVork blog
gets props for (a) its relentless research, (b) bringing so many conceptual art projects from all over the world under one roof without being monotonous or repetitive, and (c) its use of photographs rather than text to convey ideas. Usually just a few words (e.g. "a crane trying to lift itself") are employed to get the message across if the photo alone does not suffice. This is a refreshing contrast to classic conceptual practice, which is to bury the art consumer under a mountain of words, cribbed from Lacan and the like, with practically nothing to look at.
Still, what's needed is a parallel blog, VVork Annotated, which attempts to make sense of this image stream. Projects compared and contrasted, stale ideas exposed (they can't all be good), connections to past art made using words and more pictures, and a consideration of what's missing from the blog. Without this the flow of ideas risks being a flow of novelty. If a group of critics spent the next six months annotating VVork online, we would have the beginnings of a real history of the present visual moment as seen through the eyes of artists.
Update: the
Anti-VVork
.